2016.2 Times of Change
Foreword
Times of Change
Digitalisation is advancing at breakneck pace. This process of change does not gain speed in linear form, instead it increases exponentially and has effects – not just on companies, but primarily on society itself. This is disconcerting for large sections of the population, who are no longer able to keep pace, or do not wish to do so.
The great promises of salvation of the modern era – globalisation, digitalisation and the forming of multicultural societies – are proving too much for a majority of citizens in Europe. The fear of globalisation in particular is leading to isolationism, nationalism and xenophobia.
In this era of transition it is also the responsibility of every businessperson to participate in this change process, to counter fears and rejection – in the interest of civil society and their respective company.
What can we do, as medium-sized companies?
A lot. Important here is our own positioning in the debate regarding a liberal society. We need to take a stand and act as an example for our employees. Our customers will also be proud to work with a service provider who is clearly committed to Europe and to globalisation.
In our companies we can encourage employees with an interest in digitalisation and usher in the digital future in work groups.
We, the VTL headquarters, will support you on the path to digitalisation in the form of workshops, information events and webinars.
Let us have the confidence to regard the change process not as a threat but a challenge and an opportunity, and to participate in it actively.
We wish you and your families a contemplative Christmas and a healthy and successful new year in 2017.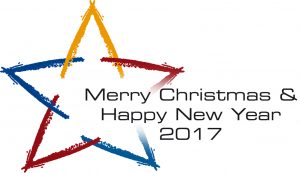 Andreas Jäschke
Managing Director
VTL Vernetzte-Transport-Logistik GmbH
System meeting 2016
Over 100 partners took part in the system meeting in Stuttgart.
After a communal lunch Andreas Jäschke, Johanna Birkhan and Christian Zink presented facts and figures for the business years 2015 and 2016 as well as on the quality development of the CargoFamily and provided an outlook for 2017.
In a panel discussion, Oliver Krause of Logiline and Andreas Jäschke, VTL, presented the new co-operation offer aimed at increasing the service portfolio. Find out more here…
Kristina Wassermann and Christian Zink introduced the winners of this year's PartnerAwards and handed out trophies and cheques to each of the four winners.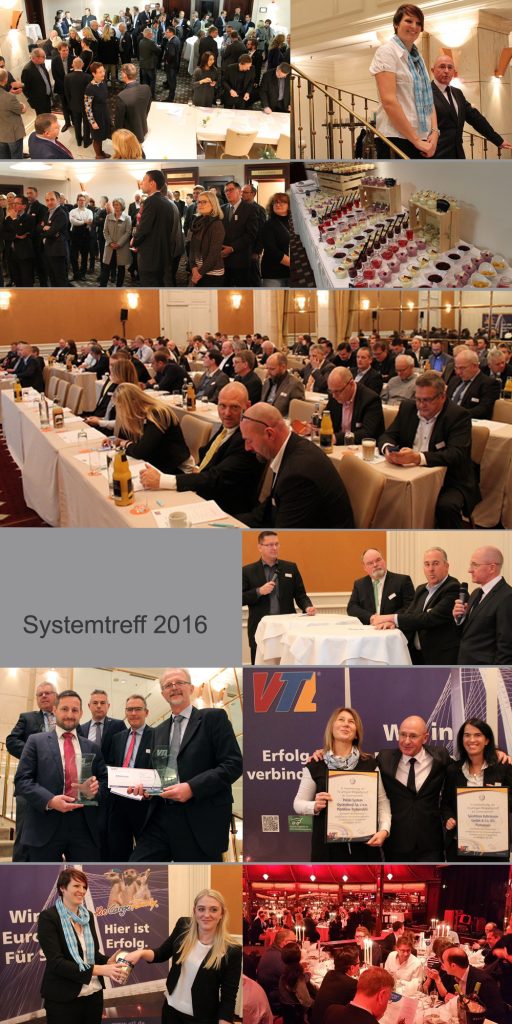 Logiline & VTL
Double opportunity
At the Stuttgart system meeting at the end of November Olaf-Ulrich Krause, Managing Director of Logiline, and VTL Managing Director Andreas Jäschke presented the new co-operation offer. Logiline, specialist for fast logistics, is set to expand the service offer of the VTL partners where specific transport solutions are required. Then the members of the CargoFamily can turn to the special direct, KEP and air cargo solutions of Logiline.
A good idea, agrees Peter Berg, Sales Manager at VTL partner Huckschlag. After all, an extended service range will help obtain increased customer satisfaction, turnover and ebit. He is convinced that, "with Logiline we can offer our customers even more one-stop service, in addition to our daily business."
Olaf-Ulrich Krause confirmed this, adding: "Yes, we want to add our special expertise to your service offer and use VTL ourselves as preferred general cargo network."
This is precisely the area where Andreas Jäschke sees a double opportunity from this co-operation: "As a service provider, Logiline should be able to help our partners obtain value added services. And as a customer, Logiline should help to increase our volumes.
Krause wishes to discuss the services and transport suited to this in discussions with the individual VTL partners and says: "Let us talk about new business and benefits for you, your customers and us."
VTL PartnerAwards 2016
Grouped cargo co-operation characterises the system partners VTL PartnerAwards 2016
The end of November saw Vernetzte-Transport-Logistik GmbH (VTL) present its PartnerAwards 2016. This year prizes were awarded in four categories, "Best Quality", "Highest Volume Partner National", "Highest Volume Partner International" and "Highest Volume Export Partner".
The winners were presented with the PartnerAward for their outstanding achievements at the system meeting in Stuttgart. Spedition Hoss GmbH & Co. KG of Siegburg received the award for the best quality. The firm succeeded in achieving the highest points in the various categories of the monthly VTL ranking.
With 74,280 shipments and 23,387 tonnes via the VTL system, LOXX Logistik & Spedition GmbH of Gelsenkirchen was the highest volume national partner. The winner in the international segment is CFL logistics S.A. The Luxembourg logistics services provider added 31,642 shipments with a total of 16,038 tonnes into the groupage freight network. This represents around three times more shipments and five times more weight than the second-placed partner in this category. Strongest export partner is Richard Müller GmbH & Co. KG of Gelnhausen, who sent the highest volume abroad in the 12-month period via VTL: 8,822 shipments and 3,070 tonnes.
VTL has presented the PartnerAwards since 2011. Due to the clearly-defined selection criteria, they are more than merely recognition of first-class services, they are also a useful orientation aid for decision makers and potential customers in the choice of a trans-European general cargo network.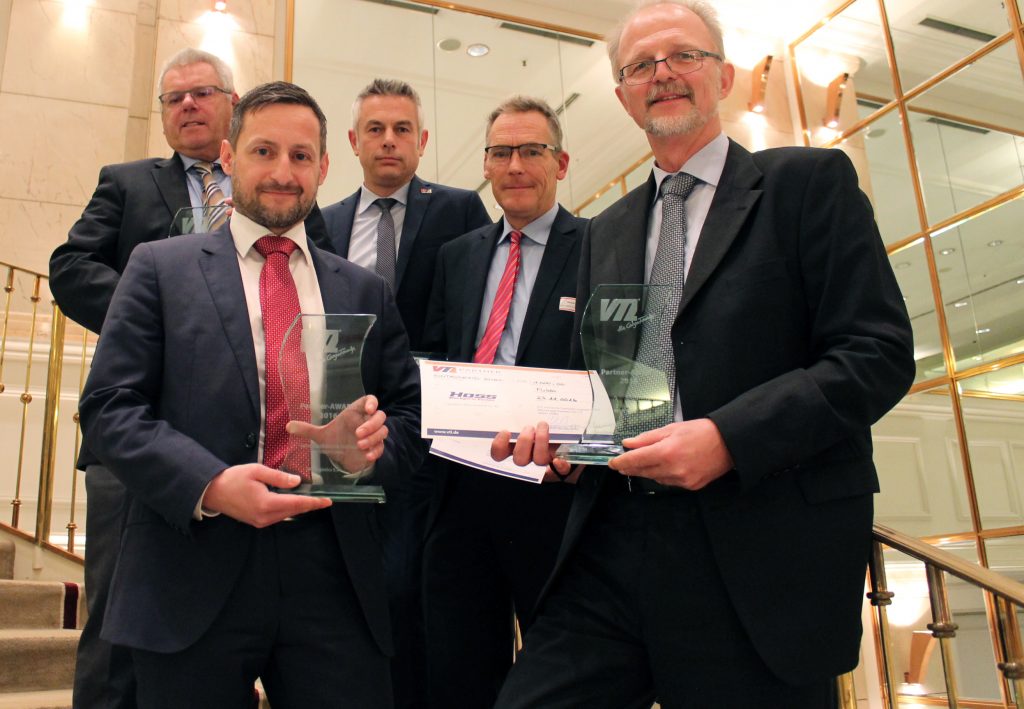 Jubilee
There were also congratulations on the fifth anniversary.
All-Fracht Logistik GmbH à Link
Andreas Jäschke offered his congratulations and presented those present with a certificate marking 10 years of VTL partnership.
People at VTL
VTL shareholders confirm Supervisory Board
During the VTL shareholders' meeting in September 2016 the 37 shareholders confirmed the Supervisory Board led by Chairman Joachim Berends and his deputy Herbert Rothschild.
The Supervisory Board members Berthold Barth, Reinhard Briem, Marc Eckhardt, Heinz Hintzen, Michael Riewe and deputy Herbert Rothschild are extending their term of office. For Joachim Berends renewed confirmation as Chairman of the Supervisory Board is a third term of office. The 47-year-old Director of Bentheimer Eisenbahn will now head the supervisory committee of the VTL Vernetzte-Transport-Logistik GmbH for a further three years.
New employees
Angelo Ravalli is a new employee at system headquarters. The 40-year-old has been deputy head of HUB since November 2016 and brings with him a wealth of logistics experience as qualified road haulier and trainer, for example for warehouse staff, warehouse management and planning. He likes to spend his free time with his family.
Verena Budenz, 21, is in the first year of her apprenticeship at VTL. Since 1 August 2016 she is being trained as Freight Forwarding and Logistic Service Clerk. She has already been able to gather initial experience in the HUB Co-ordination department. "I have felt well-integrated since day one. I really enjoy having the opportunity to work on varied and complex tasks." In her spare time she likes to play tennis and is a member of a majorette group.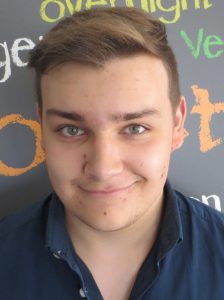 Mathis Kritzner, 18 years old, also began his training as Industrial Clerk for Freight Forwarding and Logistics Services on 1 August 2016. He is currently working on the Depot Support department. "So far I have enjoyed organising special trips the most. I also like the combination of school and company, as well as the good working situation with the colleagues from my department. If I have any questions, people are always willing to help me." In his spare time he enjoys archery.
Training
2016 trainee exchange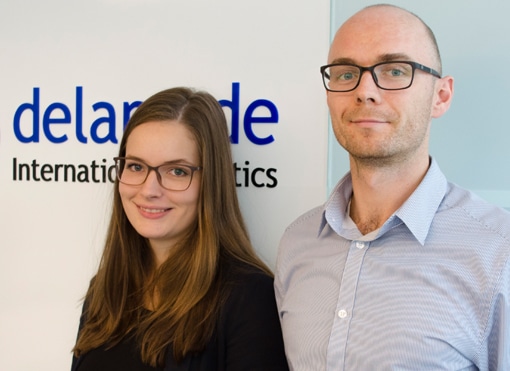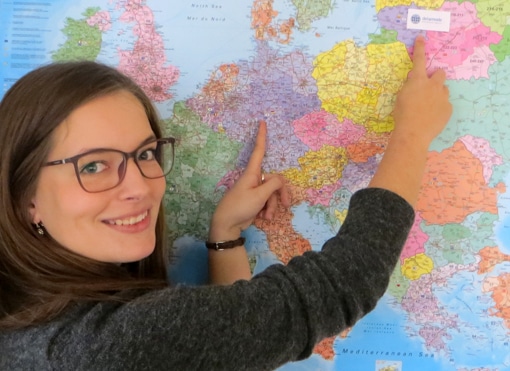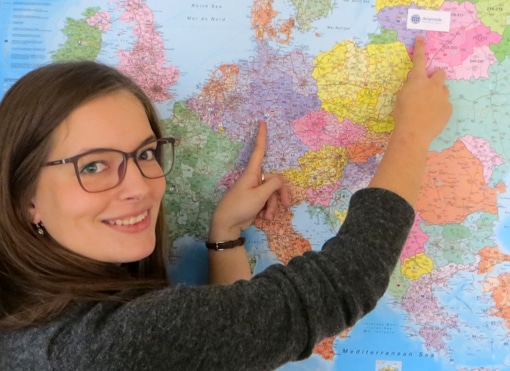 Three weeks in the Lithuanian capital Vilnius at VTL partner Delamode: Fabienne Gaschler, a second-year apprentice at VTL, was impressed by the hospitality and helpfulness of her colleagues, by the attractive city centre with its many sights and, not least, by the opportunity to work independently at Delamode from the beginning onwards. "I felt very comfortable there from the very first day," says, Fabienne, describing the exchange. She describes finding the parallels between the tasks in her training in Germany and at Delamode as exciting.
The placement was filled with familiar but also new tasks, such as an introduction to the daily business of the import and export department. Another new subject was Full Truck Loading (FTL). Jonas Pakausis, a freight forwarder at Delamode, was very satisfied: "Fabienne was a hard worker and quickly grasped the nature of the work at Delamode and what needed to be done. She was a real help in our daily work."
Application tips – First impressions count!
VTL has further expanded the field of Training within its website and now also provides assistance to young applicants with their applications.
Alongside a checklist for drafting the cover letter and tips for the CV, there is also a description of the entire application process. There are even helpful tips for interviews.
On the website the CargoFamily provides 10 good reasons to train at VTL.
2017 - Activities
Transport logistic 2017
VTL and ILN, the partner in the strategic alliance, are to have a communal stand once again at the transport logistic 2017, in Hall A5.
Due to the high level of recognition, the distinctive stand design of the previous years is also to be used in 2017. The tried-and-tested satellite stands will also be occupied by VTL partners again.
VTL stand at the transport logistic 2015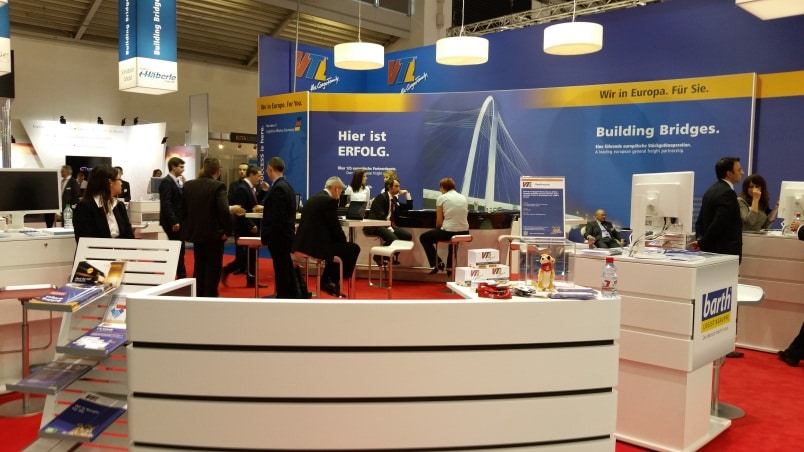 VTL booth on the transport logistic 2015
2017 – New general cargo rates for Germany
VTL has appointed the FORLOGIC institute led by Prof. Dr. Dirk Lohre with the drafting of new subsequent and pre-collection rates for the processing of general cargo shipments. The results should take account of regional conditions such as infrastructure, the economic strength of the region, rental prices and wage levels, within Germany.
A project group consisting of VTL system partners is to support the FORLOGIC team in the process. This is to take place in the scope of workshops, to be held at the system headquarters in Fulda in the first quarter of 2017.
Service offers for VTL partners
Heisterkamp delivers VTL trailers
Bart Peters, Sales Manager at Heisterkamp Trailer Rental GmbH, is delighted with the delivery of the newly-liveried VTL trailers.
Alongside lettering for curtainsiders, box and refrigerator trucks, the owner-managed company from Travemünde also offers short-term rental and leasing of these special vehicles. On request there are also extensive and flexible services for the rental and leasing offers. Heisterkamp has 9 trailer depots, of which 5x in Germany, 3x in Holland and 1x in Belgium.
Further information can be found at the website https://www.heisterkamp.eu/
Loading equipment pooling – swoplo is worthwhile
On Thursday, 19 January 2017, from 10 am to midday, swoplo is staging a Webinar on the subject of loading equipment pooling. Participation in the webinar is free and non-binding. Simply send your registration to max.vonhaller@swoplo.com
Since summer 2016 swoplo AG has run a digital internet platform with which logistics companies, freight forwarders and other companies can simplify their loading equipment management and make it more economical.
The neutral loading equipment network encompasses a wide range of articles and sectors and is open to all participants in the logistics chain. Here they receive transparency regarding the thus far opaque market for pallets and other loading equipment. Loading equipment stocks are linked via the neutral platform, compared and safely allocated. Here swoplo users settle account balances for loading equipment debts and claims in an exclusively monetary manner. The exchange of pallets 1:1 no longer occurs. This also eliminates the risk of unexpectedly high negative balances occurring in spite of all care in the handling of loading equipment and the associated paperwork.
The platform is currently only available to German companies. However, swoplo is working to ensure that the services are also available throughout Europe in the future. swoplo creates transparency, is simple, safe and worthwhile. Find out about it at www.swoplo.com/de and register for the webinar in January to find out more about the concept and benefits.
Imprint
PUBLISHER:
VTL Vernetzte-Transport-Logistik GmbH
Werner-von-Siemens-Straße 15
D – 36041 Fulda
Telefon: +49 661 9768-0
E-Mail: systemzentrale@vtl.de
Web: www.vtl.de
EDITING:
Kristina Wassermann, VTL
HERZIG Marketing Kommunikation GmbH