Spring 2012
VTL House of Quality - The TQM
Concept at VTL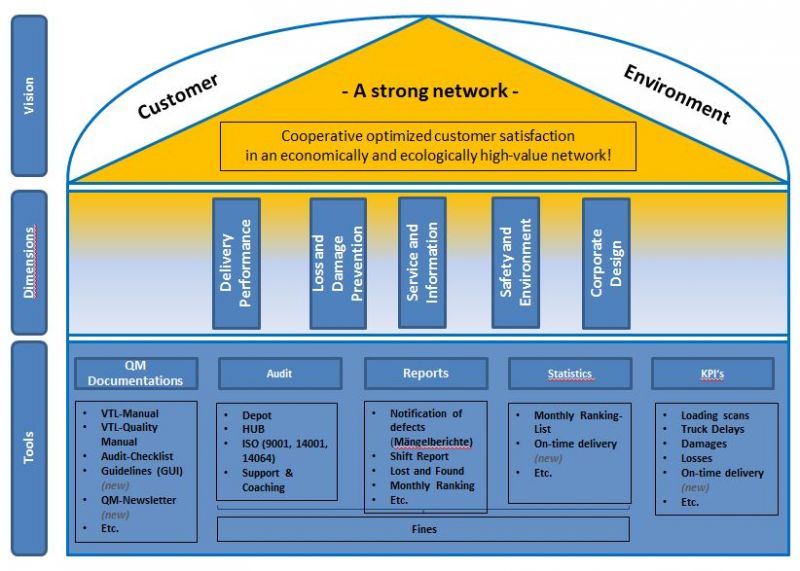 Our customers' requirements for a high quality VTL network are continuously increasing. In addition to this, the competitive pressure has intensified. This pressure comes especially from companies such as DHL, Dachser, Schenker und Co. This, coupled with an increasing readiness of our customers to change logistics providers, makes it inevitable that we will have to distinguish ourselves from the rest of the market: one of the most important factors here, alongside price, is quality. In order to be able to do this, conventional quality and environment management concepts (e.g. ISO 9001:2008, 14001:2004) can only provide the basis. However, these are not effective and efficient enough to be able to meet customer requirements.
The high customer requirements can only be met by the Total Quality Management (TQM) concept followed by all VTL partners. The whole concept is reflected in the "VTL House of Quality" (see figure). The right quality monitoring and control tools form the basis for an effective TQM in the VTL network. On the basis of this, the VTL processes are clearly illustrated in quality dimensions. The whole TQM concept is shaped by the VTL quality philosophy and is organised based on this.
Quality Philosophy
The starting point and success factor are a shared quality philosophy, which is customer-oriented and which includes environmental concerns and the corporate philosophy. Reducing CO2 emissions is very topical at the moment. Customer satisfaction is increased, the environment is spared and costs are reduced, all thanks to optimised transport.
Quality Dimensions
Measurability and transparency are guaranteed by the integration of the VTL processes and the related key performance indicators (KPIs) in the quality dimensions. An example of a quality dimension is the delivery time, which includes the delivery process as well as other processes. In future the performance of the delivery will be measured and conveyed using the in-time delivery indicator (consignments delivered within the specified time period compared with the total number of consignments to be sent).
Tools
Development, control and proactive business transactions, with the objective of continuously improving the VTL system, are supported by tools such as quality documentation, statistics and audits. Monitoring using reports and statistics is very important. It is on the basis of these that future deviations from targets can be recognised promptly. As a result it is possible to introduce actions for improvement before poor performances are recognised by the customers.
In summary, in this way VTL network processes and products can be sustainably organised to meet the requirements of our customers and the environment and are coordinated on us as a system network.
Thanks to all VTL partners working together, this comprehensive quality management (TQM) concept underpins the long-term success of the VTL network as a whole.
______________________
Christian Zink
Head of Quality Management
VTL Vernetzte-Transport-Logistik GmbH
Werner-von-Siemens-Straße 15
D-36041 Fulda
Tel.: +49 (0)661 9768-110
E-mail: christian.zink@vtl.de
www.vtl.de
PARTNER NEWS: Güstrower Logistik GmbH
Since 01.11.2011 the VTL network has had a strong partner in Mecklenburg-Vorpommern. From its headquarters in Güstrow the owner-managed company is committed to the development of the Rostock port. With 45 employees, approximately 15,000 m2 of handling and storage space, 36 gates and 22 vehicles and 40 years of know-how in the industry, the company describes its core competence as being national and international consolidated cargo distribution. Güstrower Logistik GmbH has also been a professional partner in the part load and full truck load in direct transport (national, international), PICK-UP service, warehousing, hazardous materials, maritime traffic, container stuffing and stripping, commissioning and packaging divisions and in the supervision of logistics projects – for more than 10 years.
_______________
pp. David Böhler
Subsidiary Manager
Güstrower Logistik GmbH
Am Gewerbegrund 3
D-18273 Güstrow
Tel.: +49 (0)3843 238-16
E-mail: david.boehler@guestrowerlogistik.de
www.guestrowerlogistik.de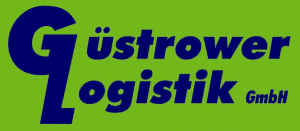 PARTNER NEWS: Anniversaries at BWG Reimer, Helmrath and Rottbeck
We would like to congratulate:
BWG Reimer GmbH & Co. KG, Gotha
01.03.2012, Steve Niemtschke, Long Distance Travel Team Leader, 10 years
09.03.2012, Harald Seydel, Warehouse Group Leader, 20 years
G. Helmrath GmbH & Co. KG, Mainz-Kastel
01.01.2012, Kerstin Frangel, VTL Consolidated Cargo Receipt, 25 years
Rottbeck Spedition GmbH, Bottrop
01.01.2012, Jörg Elsmann, 20 years
PARTNER NEWS: Kontinent Spedition receives the award Small and medium-sized company grand prix 2011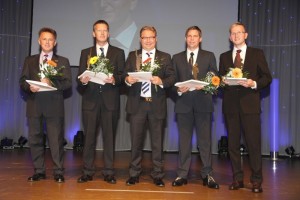 Kontinent Spedition, Jena, was a 2011 finalist in the competition "Small and medium-sized company grand prix 2011".
As part of a festive gala in Würzburg, and with more than 500 guests in attendance, the most successful companies from the German federal states of Baden-Württemberg, Bavaria, Hesse and Thuringia were awarded the "small and medium-sized company grand prix 2011" in the 17th nationwide competition.
The participants in the competition represent the elite of growth in German small and medium-sized companies. They are companies which steer their course with strong values a clear strategy and high flexibility. These companies have sometimes acquired a great deal of experience in managing crises and structural changes and also have a great deal of innovative strength. They are companies which care about people and which stabilise their regions daily.
Kontinent Spedition was one of the 22 finalists and is characterised in particular by:
• Exceptional overall development of the company;
• The creation and securing of jobs and training places;
• Exemplary performances in the competition criteria "Innovation/Modernisation", "Commitment to the region" and "Service/Customer Proximity/Marketing".
more >>
Thomas Rödiger
Authorised signatory
Kontinent Spedition GmbH
Göschwitzer Str. 34
D-07745 Jena
Tel.: +49 (0)3641 2918-68
E-mail: t.roediger@kontinent-spedition.de
http://www.kontinent-spedition.de/
PARTNER NEWS: Paul Weidlich GmbH und Wistra GmbH - Transport Safety Systems
The flawless securing of cargo for consignments that cannot slip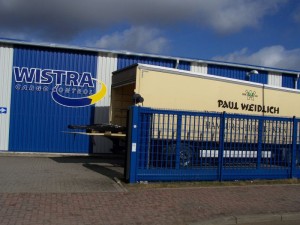 In cargo transportation, lashing straps, clamping rods and cargo bars are all standard equipment. VTL shareholder Paul Weidlich GmbH in Lübeck uses the Wistra GmbH (Selmsdorf) transport safety systems for this.
Twice every working day Weidlich takes on the whole Europe-wide shipping volume of the manufacturer Wistra – a considerable number of these are long good shipments for loading.
Nils Wudke, authorised signatory of Wistra GmbH: "As far back as the end of the 1990s, Weidlich transported our products and we are very happy that our transport service provider also equips its whole lorry fleet with our safety systems."
"With our collaboration over the past years we, Wistra and Weidlich, have grown together",says Ole Denker, authorised signatory and haulage manager at Spedition Weidlich, which employs 50 people in Lübeck.
Approximately 2,700 general cargo shipments which weigh approximately 1,700 tonnes in total are handled annually for transport in Germany and Europe via the VTL central hub in Fulda. Numerous direct transport jobs are also handled. "Additional direct transport should be established by growth," explained Ole Denker.
On the Safe Side
Recipients of the certified safety systems are specialist retailers, vehicle manufacturers and haulage companies, which transport all kinds of long goods for example. Weidlich also relies on Wistra products for the sealing of transport units, which is obligatory for VTL partners for system transport.
http://www.wistra.eu/
http://www.paul-weidlich.de/
Special Conditions for VTL Partners
All VTL partners receive special conditions on Wistra products. A special service offered by the manufacturer is that it prints individual customer logos on, for example, lashing straps. It does this even if the company is only buying a few units.
Mr Nils Wudke from Wistra would be glad to deal with any enquiries you may have. Please contact him by telephone on +49 (0) 38823/258-210 or by e-mail at nils.wudke@wistra.eu.
GREEN LOGISTICS: VTL Green Logistics working group
On 30 January the "Green Logistics" working group met again in Fulda to discuss the options for reducing CO2 emissions in the VTL system. Measures for reducing greenhouse gas emissions were suggested and discussed here. At this meeting, the third of the four planned meetings, participants and invited guests dealt with some very promising options.
Planning and Optimisation of Local Transport Tours
Local transport optimisation by using tour planning software: Prof. Dr. Andreas Schmidthöfer from Heilbronn University presented some options and requirements.
Alternative Options: The Use of a Mixture of Gas / Diesel
Potential alternative options: The use of liquefied petroleum gas technology at Hamacher Logistik GmbH. Klaus Matschke and Lothar Petzold gave insights from and reported on their experience.
Other proposals discussed are the establishment of a drivers' league and the introduction of ongoing tyre pressure monitoring.
The 4th working group meeting, which focuses on avoiding backlogs and increasing energy efficiency in existing logistics properties was held on 27.02.2012 at VTL in Fulda.
Working group participants:
Barth Spedition GmbH, Burladingen
Christoph Ruck
BWG Reimer GmbH & Co. KG, Gotha
Siegfried Frühwacht
Fahning Spedition GmbH, Hamburg
Nils Heidenreich
Hintzen Logistik GmbH, Eschweiler
Janine Breuer
Spedition Hoss GmbH & Co. KG, Siegburg
Lothar Klatt
Kontinent Spedition GmbH, Jena
Thomas Rödiger
Kraftverkehr Emsland GmbH, Nordhorn
Arno Boll
Matthias Nögel
Marco Oppermann
Loxx Holding GmbH, Gelsenkirchen
Wiebke Röhrich
Steinbeis-Beratungszentrum Spedition und Logistik, Heilbronn
Prof. Dr. Dirk Lohre
Ruben Gotthardt
Manuel Heusel
VTL Vernetzte-Transport-Logistik GmbH, Fulda
Christiane Fink
Guests:
Hamacher Logistik GmbH, Gronau
Klaus Matschke
Lothar Petzold
Heilbronn University
Prof. Dr. Andreas Schmidthöfer
GREEN LOGISTICS: Kraftverkehr Emsland limits greenhouse gas emissions with a tyre pressure measurement device
When they have too low a tyre pressure, tyres become deformed whilst driving and as a result the rolling friction increases which leads to an increased energy requirement for the movement of vehicles. This is proven by studies and best practice guides on the topic of "green logistics". According to a current study by the Baden-Württemberg Cooperative State University, the rolling friction of tyres makes up a third of the fuel consumption.
Kraftverkehr Emsland GmbH in Nordhorn employed Mathias Nögel, a student from Osnabrück University, to measure possible changes in fuel consumption using his own calculations. M. Nögel used seven 40t lorries and eight 12t lorries from Kraftverkehr Emsland GmbH as a basis for this. The result shows that savings of 31.37t of CO2 equivalents per year are possible. This saving could be 128.88t of CO2 equivalents over the operating life.
This savings potential moved Bentheimer Eisenbahn AG, as the parent company of Kraftverkehr Emsland GmbH, to install a tyre pressure measurement device. It is used for the tyre pressure measurement of their 60 buses, 26 cars, 19 lorries and several transporters. The tyre pressure measurement device is also available for use by approximately 100 cars owned by employees, which are parked in the company car park on a daily basis. This is because greenhouse gases should be reduced even when commuting and making private journeys. The aim of this is that the employees will have a better awareness for acting in a more responsible way with regards to the environment.
Arno Boll
Haulage Manager
Kraftverkehr Emsland GmbH
Otto-Hahn-Str. 1
D-48529 Nordhorn
Tel.: +49 (0)5921 8034-30
E-mail: boll@kraftverkehr-emsland.de
http://www.kraftverkehr-emsland.de/
NEW EMPLOYEES
Carina Kling
Carina Kling, 21. After doing the shortened training at VTL, she was taken on as an employee in the Scheduling department as of 19.01.2012. In her free time she enjoys reading, spends a lot of time with family and friends and likes learning foreign languages. She is currently taking part in an Italian and French course.
Christian Zink
Christian Zink, 34. Has been the head of Quality Management since 01.09.2011. Outside of VTL he spends lots of time with his friends and uses the time to keep fit. As well as partaking in sporting activities such as running, winter sports or swimming, he enjoys travelling and enjoys getting to know new people and countries.
TRAINING: Assessment Centre Training

At the Richard-Müller business school in Fulda in November 2011, Christiane Fink, assistant to the VTL management, actively prepared pupils for working life for the first time.
During the 1 day job application training the pupils were prepared for interviews and recruitment tests: After they had been told about the theoretical application procedure, each pupil was given 20 minutes to quickly introduce themselves and for an interview, which was done so that it was as realistic as possible.
At the end of this round there was an evaluation from the observers and the group. The pupils received feedback on the quality of communication such as voice, comprehensible argumentation, their demeanour as well as on the application documentation they had compiled.
This assessment centre training is held annually in different classes and faculties and Ms Fink plans to support the Richard-Müller School with her experience again this year.
LOOK BACK AT 2011: BME Congress: Marcel Frings wins a well-being weekend
Berlin, Nov. 2011. The winner of the well-being weekend is Marcel Frings, Chief Representative at TimoCom. In November 2011, during the BME Congress for purchasing and logistics in Berlin, he participated in the VTL raffle and will spend a weekend in Fulda, where the VTL headquarters are located, in the Hotel Esperanto and will go on a tour through the VTL transshipment centre.
LOOK BACK AT 2011: Optimism on the Bosporus
VTL announces expansion plans at the logitrans in Istanbul
VTL Vernetzte-Transport-Logistik GmbH, one of the leading European general cargo companies, is planning a joint venture with their Turkish partner Ulusoy Logistics. This news was announced by CEOs Andreas Jäschke, VTL and Ertunç Laçinel, Ulusoy at their joint stand during the logitrans exhibition in Istanbul. Ulosoy has been a member of the Cargo Family since May 2011. And, thanks to the joint venture being founded, business activities in Turkey should be furthered in the coming years and the door to the Middle East and Asia should be further opened for collaboration.
At this year's logitrans, VTL presented itself as a competent Europe-wide supplier of logistics solutions and also demonstrated its interest in expanding its network in the region. In Istanbul, VTL was able to present its plans for strengthening its presence in this important emerging market to a number of interested shipping agents, other possible partners in the Eastern European and Middle East area as well as to Turkish and German politicians.
Market of the Future
The market has grown drastically over the last few years. In the country, which has about 78 million people, the income per capita has more than tripled in the last decade, according to the Dec. 2011/Jan. 2012 issue of "Markt und Mittelstand".
LOOK BACK AT 2011: VTL hands out the Partner AWARDS for the first time
As part of the 6th system meeting, VTL Vernetzte-Transport-Logistik GmbH handed out awards to their partners for the first time.
With the introduction of the Partner Awards, VTL is aiming for more than just recognition of first-class performances but also wants to give decision-makers and potential customers some useful guidance for selecting a Europe-wide general cargo network. Correspondingly the two categories "best communication quality" with the emphasis "green logistics" and the category "strongest growth" were chosen.
The award for the "best communication quality" was awarded to two partner companies, Hintzen Logistik GmbH in Eschweiler and Kraftverkehr Emsland GmbH in Nordhorn. Both are particularly strong with regards communicating their association with the VTL general cargo system and in supporting the network in the public image. And both partners characterise the VTL topic "green logistics", with their CO2 footprint and consignment table, in an exemplary manner. Hintzen Logistik is very active in the area of online marketing and Kraftverkehr Emsland is very active in the area of regional PR work.
The company Gebr. Zobel & Co. Speditions GmbH was awarded the "strongest growth" prize to honour its enormous growth during the economic crisis. From 2008 to 2010 the company grew by over 30%, which came as a result of sales and optimisation in production and procurement.
VTL CEO Andreas Jäschke presented the trophies to Kerstin Zobel, one of the company management team at Zobel, to Tanja Röring, Customer Service/Head of Consignment Receipt at Hintzen, as well as to Arno Boll, authorised signatory at Kraftverkehr Emsland.
Strong and Innovative
This is how VTL showed itself in the second part of the system meeting, the information event. Andreas Jäschke reported on current developments and topics as well as on the exceptionally satisfactory business performance in 2011.
Christian Zink, head of Quality Management, informed the "CargoFamily" about a new quality management concept. And Christiane Fink, assistant to the VTL management team, presented the second part of the "green logistics" project with the new working group, who are working on finding feasible ways to reduce CO2 emissions in the whole VTL network.
There was active interest and applications following the presentation of the VTL academy, which began seminars on topics such as management and character training, sales and service, materials planning, warehouse/handling and customs.
Jäschke thanked the partners, in particular the European partners from 12 countries, for their active participation at this year's 6th system meeting. The new VTL partner, Emons from the Czech Republic, which has been a member of the CargoFamily since 1.9.2011 used the opportunity to introduce itself: The independent company, with a German parent company, was founded in 2005 and plans to open another subsidiary in the Czech Republic, in addition to the existing five, whereby the central handling hall will remain at the current location in Pilsen.